Soil in the city: man shaping the Ghent urban landscape, hydrology and soils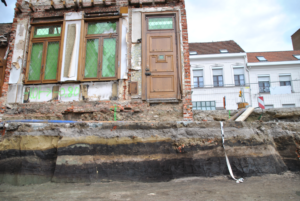 The annual excursion of SSSB of 2019 will take place on 24th of May in Ghent.
During the excursion, we will move to a habitat unknown to many soil scientists: the city. Although Flanders is highly urbanised, the urban soilscape remains a blind spot in our soil science knowledge. During this excursion, we will explore how man, throughout history, has shaped, and is still shaping the landscape, hydrology and soils of the city of Ghent. The excursion stops will take us to different historic parts of Ghent that testify to the various interactions between humans, soil, landscape, and hydrology, and illustrate how this influences ecosystem service delivery.
Join us on the excursion to reflect on how we can characterize, evaluate and manage our urban soilscape, and this against the stunning scenery of the city of Ghent! Subscription here.